Chasing Rainbows at the Manhattan Beach Pier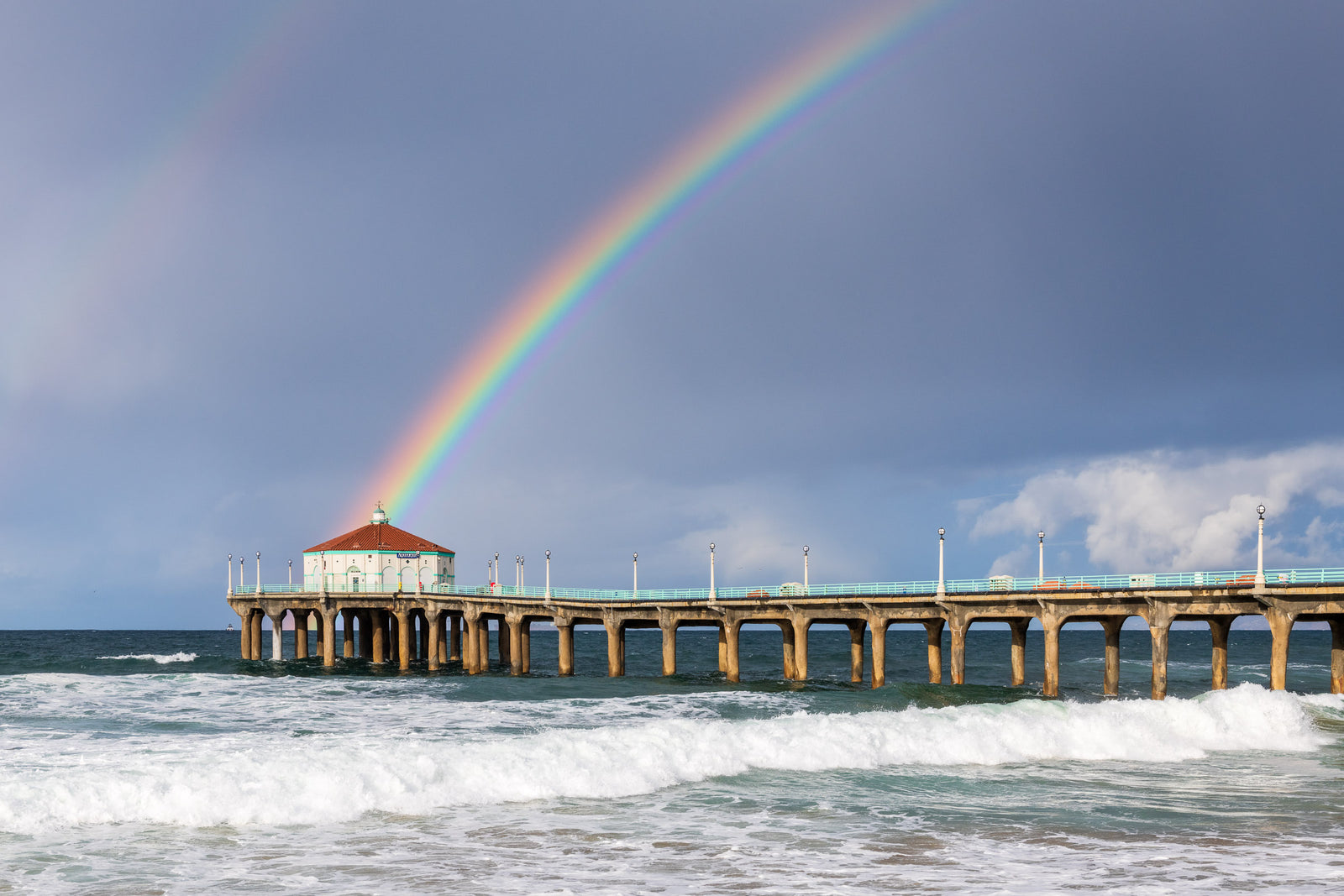 At 6:30 a.m. this morning, I peaked through the blinds on my bedroom window. I expected to find some trace of the morning storm left in the sky. Instead, the sky was completely clear. Somewhat surprised, I walked over to a second window where I noticed dark clouds and what looked like an approaching storm.
For the next few minutes, I wrestled with indecision. I sensed that the passing showers might produce rainbows. At the same time, I wasn't convinced that it was worth the energy to drive down to Manhattan Beach. After a few more minutes — and one last check of the weather — I finally convinced myself that the showers were coming, not going. I threw on a sweatshirt and rushed down to beach to chase rainbows.
Look! Up in the Sky! It's a Rainbow.
When I arrived in Manhattan Beach, the conditions at the beach were extraordinary. The legendary pier was surrounded by towering white clouds, which looked like they might produce rain at any moment. I waited for what felt like hours, scanning the sky from Palos Verdes to Malibu. Nothing.
Eventually, I decided to give up. I walked slowly back to my car, stopping briefly at the end of the pier to admire the view. As I looked out over the South Bay, I noticed a faint rainbow on the horizon. I couldn't believe my eyes. This was my opportunity!
Like a man suddenly possessed, I sprinted down to the water, camera in hand. I fired off hundreds of photos. From the south-side of the beach, the rainbow seemed to emerge from the end of the pier. The situation couldn't get any better — or so I thought.
The End of the Rainbow?
With time running down on the parking meter, I walked back to my car. I sat in the driver's seat, but I didn't drive away. Instead, I once again admired the view. A few minutes later, I noticed that the rainbow had blossomed into a vibrant double rainbow. Sensing another opportunity, I grabbed my camera and sprinted down to the ocean for the second time in an hour.
In my rush to get to the beach, I forgot my camera bag in my car. This left me with one lens. As a result, I wan't able to photograph the rainbow from end to end. However, I was able to capture an image of a trio of seagulls as they seemed to frolic in the rainbow. It was a magical few minutes.
---